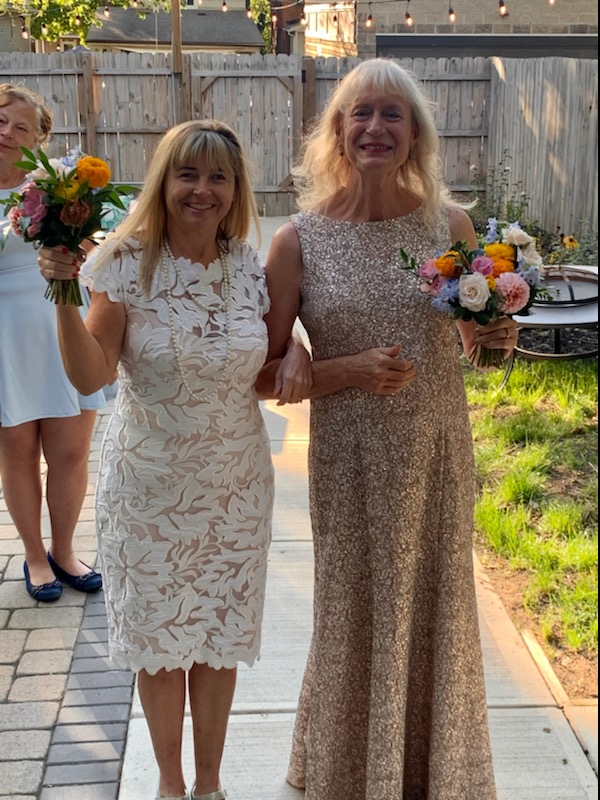 Welcome to our Poway wedding reception page!
Katie Tucker and Mary Ann Horton are tying the knot! Here is the FAQ to keep you informed.
Why does the invitation say "Reception"? Will there be a ceremony?
The official wedding ceremony was held in Ohio on September 25, 2021. It was a very small ceremony, with just family and a few close friends attending. We are holding a larger reception at our home in Poway on October 16 for our California friends and family.
Why a small wedding in Ohio?
My son, lives in in Ohio, is immune-compromised and is unable to travel. So at our daughter-in-law's suggestion, we rented a big VRBO house in Columbus for the weekend and held everything at the house. This way the grandchildren could be a bit contained and my son will be exposed to a minimum number of people.
Is it a church wedding?
The Rev. James Wilson, my pastor from Lord of Life Lutheran when I lived in Columbus, performed the ceremony there. It was a customized Lutheran service, fully blessed by God the the church. We got an Ohio marriage license.
When is the San Diego event?
It will be Saturday, October 16, from 12:00 noon to 3:00 PM. It will be at our home in Poway.
Are we supposed to be there punctually at noon?
No. It's fine to come any time after 12:00. The first hour is just gathering, dining, and Please plan to arrive between 12:00 and 12:30. The brides will be greeting guests and taking photos with you at the front of the house. (If you have a health issue requiring a shorter walk, we suggest coming right at 12, perhaps a few minutes early, to ensure you get a nearby parking space.) We'll have toasts shortly after 1PM. You can come at any time and leave at any time. We'll wrap up at 3.
What about COVID?
To keep us COVID-safe, the reception in Poway will be an outdoor event. We will set up tables around the pool, with canopies and umbrellas for shade. We expect that most of our guests will be vaccinated, but we are not checking passports. If you are not vaccinated, we suggest you wear a mask when near other guests, except when eating.
If you have had any COVID symptoms in the prior 48 hours, have tested positive recently, are quarantining, or have been in close physical contact for more than 15 minutes with a person who tested positive within the last 14 days, please do not come. We do not want this event to spread COVID.
Will there be food and drink?
Yes! We are hiring Leucadia Pizzeria to cater the event with their amazing Italian food. We plan to have pasta dishes and salads available. Luncheon will be served from the dining room, which you can take to your table to dine.
We will provide water, soft drinks, and a few bottles of wine. We will also make sparkling wine and sparkling cider available for toasts. (If you have any beverage requests, please let us know.)
Will there be entertainment?
We are excited to feature the music of Celeste Barbier. Our guests will be serenaded with her amazing voice as she sings love songs.
Who all is coming?
We have invited our family and friends from Southern California. We anticipate that we will see about 80 people from our extended families, First Lutheran Church, our LGBTQ social circle, and our many friends.
What should I wear?
Wear whatever you feel comfortable in. The brides will wear their wedding dresses. Some will dress up, some will dress down. There will be lots of pictures taken, many groups. We will be outdoors in a possibly sunny October day, at poolside. You may want comfortable shoes.
Should I bring a gift?
No! We have everything we could possibly want. Your presence is our favorite gift.
Should I bring a pot luck item?
No! We are providing luncheon and wedding cake. If you have a special beverage you would like to bring to share, please feel free to do so.
May I bring a friend?
This is a large event and we can only accommodate so many guests. If we missed someone important, please check with us to see if there would be room.
How do I find my seat?
Some of the tables are around the pool (on the right side of the house) and some are in the garden (on the left side of the house). We'll have a seat assigned for you. We plan to have a greeter to show you to your table. Stay tuned for details.
While we plan this to be an outdoor event, you're welcome to go through the house from one side to the other, for food and drink, or to mingle with the other side. It's also fine to cross in front of the house. The front door will not be open, so please enter through the side gates.
Where should I park?
Street parking is limited near our home. We anticipate about 40 vehicles. We encourage you to carpool if possible. If you are driving a long distance, such as the Los Angeles area or southern San Diego county, I'd be happy to connect you with others you might share a ride with.
If you are in good health and can comfortably walk a block or two up a small hill, please park on the next street (Tobiasson Rd or Holland Rd) and leave the nearby parking (Holland Place) for those who might need a shorter walk. If you do need a shorter walk, we suggest coming right at 12, perhaps a few minutes early, to ensure you get a nearby parking space.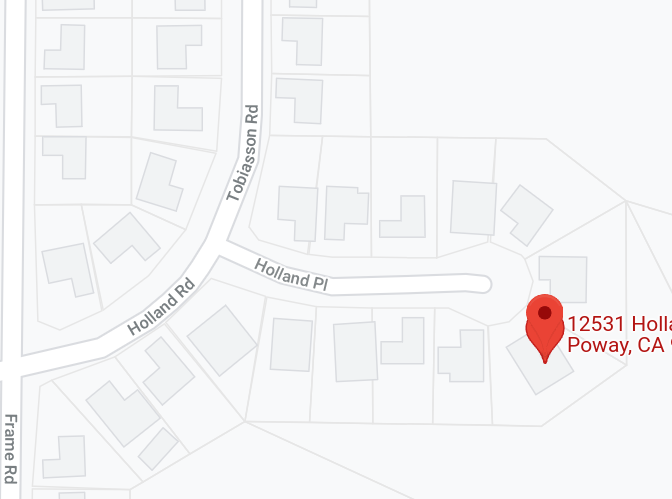 What if I have a question?
If you have any questions, or if you need to cancel, please contact Mary Ann at mah@mhorton.net or Katie at ktucker1124@gmail.com. You can also call us at 614 599 0965 or 760 672 7017.
We have invited as many of our friends as we can comfortably fit in our yard. If for any reason you are unable to attend, please let us know as soon as possible.