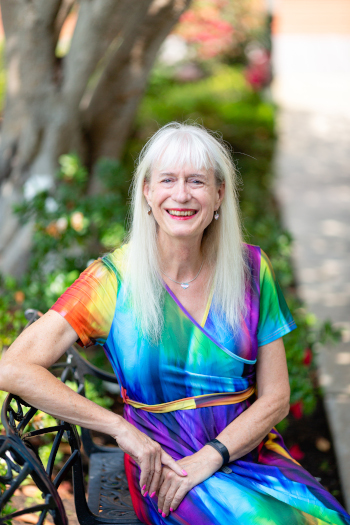 Mary Ann Horton, PhD is a transgender activist, computer system architect, Internet pioneer, entrepreneur, author, and speaker.
In 1997 she convinced Lucent Technologies to add transgender-inclusive language to its nondiscrimination policy, the first ever Fortune 500 company to do so, and to add coverage for transition care and surgery. Her work, which was soon replicated at Apple and Avaya, led Out & Equal Workplace Associates to present her the 2001 Trailblazer Outie Award (since renamed the LGBT Corporate Advocate of the Year).
Mary Ann founded several transgender social and activist groups, and conducted a research study to show companies that adding medical coverage for transgender health benefits would cost them virtually nothing. She has been featured in the Daily Beast, Out Magazine, Google Arts and Culture, Salon, Diversity Factor, SHRM, L-Mag, Nokia, Faces of Open Source, and Out TV.
Mary Ann earned her PhD in Computer Science from UC Berkeley in 1981, where she created the first email attachment and led an early social media network. At Bell Labs, she made email easier to use, brought user@domain.com email to the have-nots, and published Internet standards for email and social media.
She is the author of technical reference books including Portable C Software, and of the viral Internet parody How the Grinch Stole Marriage.
Trailblazer is her debut memoir. Visit her web site, maryannhorton.com, where you can read more about her, read her Wikipedia page, follow her on social media, and join her mailing list. Her company, Red Ace, offers discount web hosting and consulting (redace.com).