Book Mary Ann as a speaker for your event.
Professional events: Book through AAE Speakers
Church groups and small informal groups: Contact me directly.
Hudson River Trading, August 2023 (Keynote speaker)
Dear Mary Ann. Thank you again for sharing your incredible story with us earlier this month. Feedback from our ERG membership has been overwhelmingly positive, including "I'm resonating a lot with this talk,", "this is one of the best presentations I've ever seen", and "amazing on both the professional level accomplishing so much but also on the personal level fighting for so much", truly inspirational.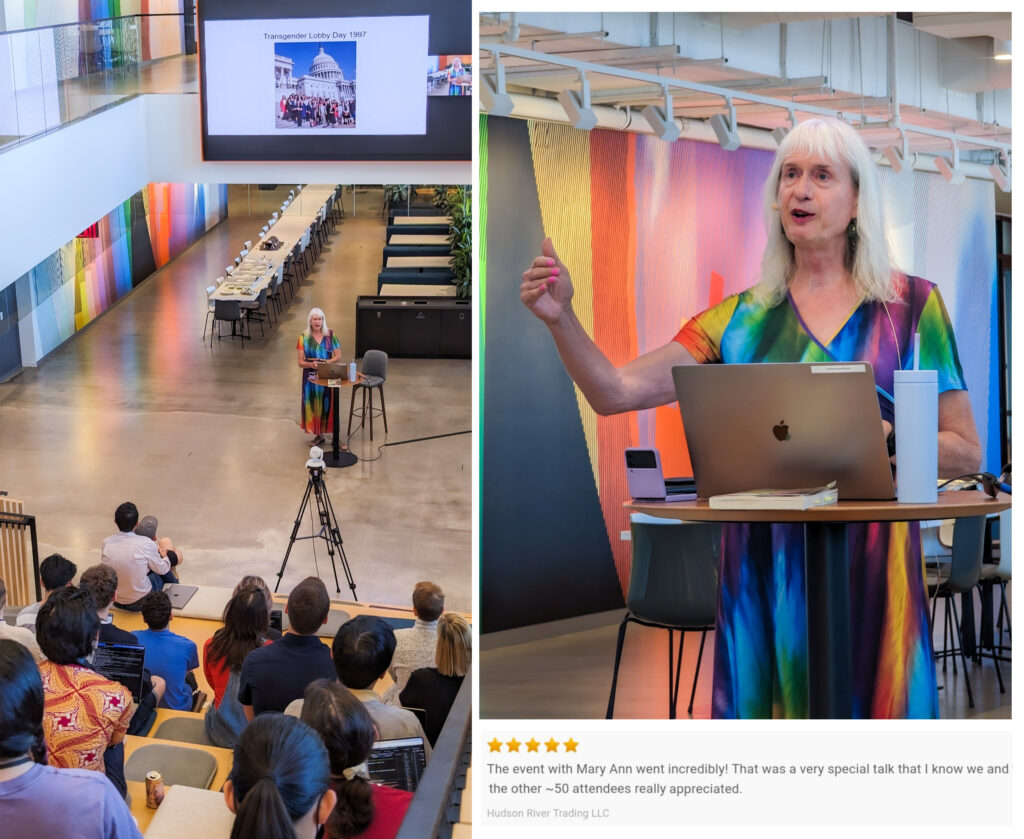 Redeemer Lutheran Church, July 2023 (speaker)
Stonewall Columbus, June 2023 (speaker)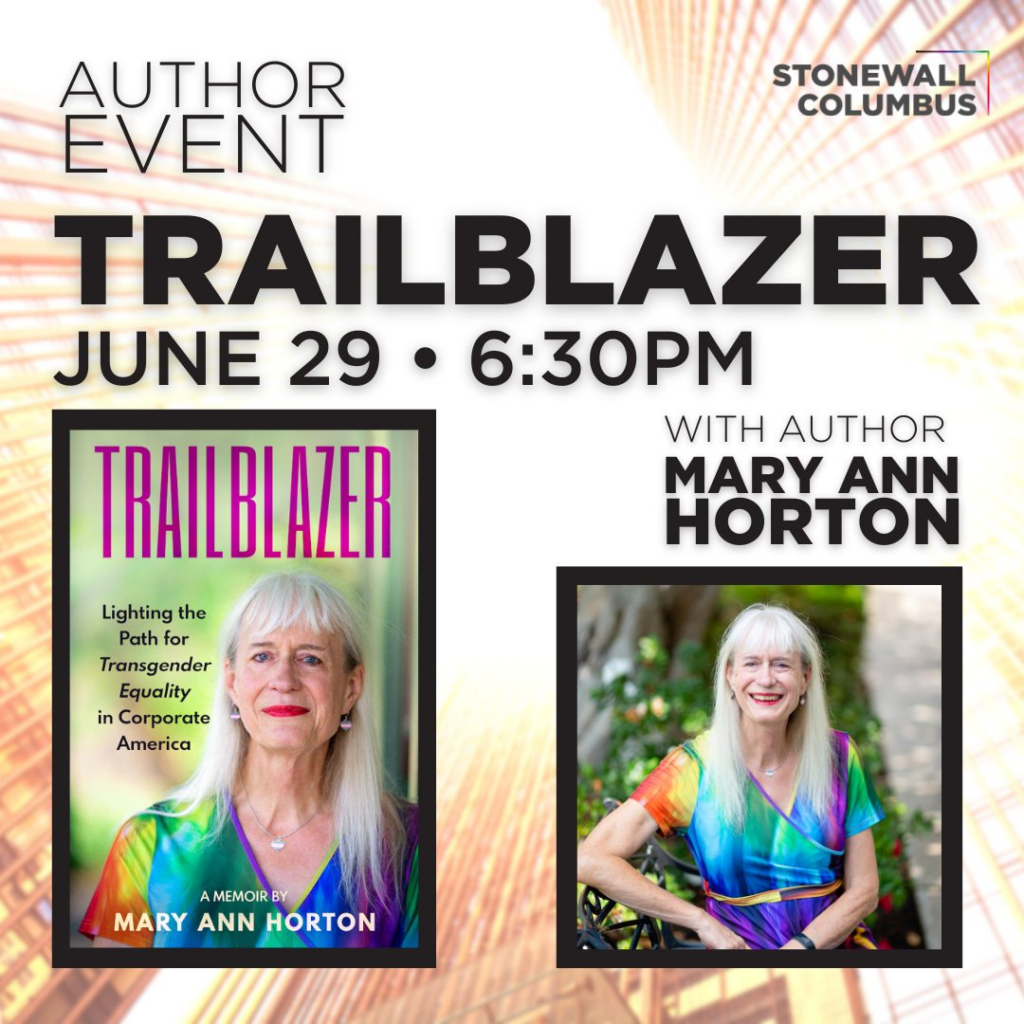 Dayton LGBT Center, June 2023 (speaker)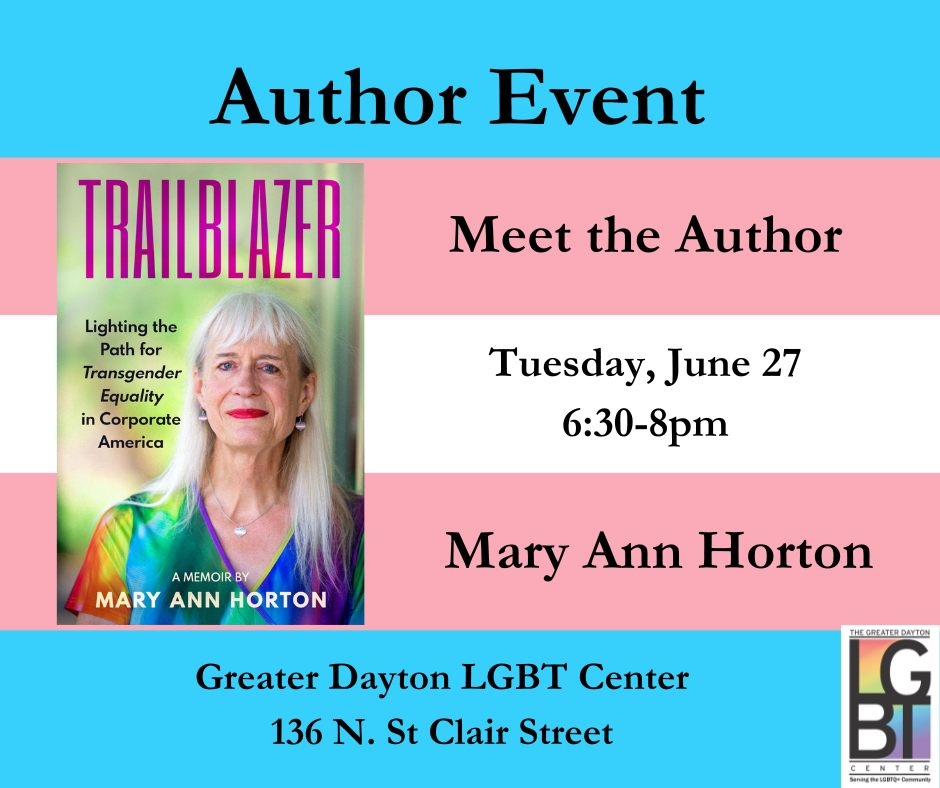 IEEE Diversity in Emerging Tech, July 2023 (panel)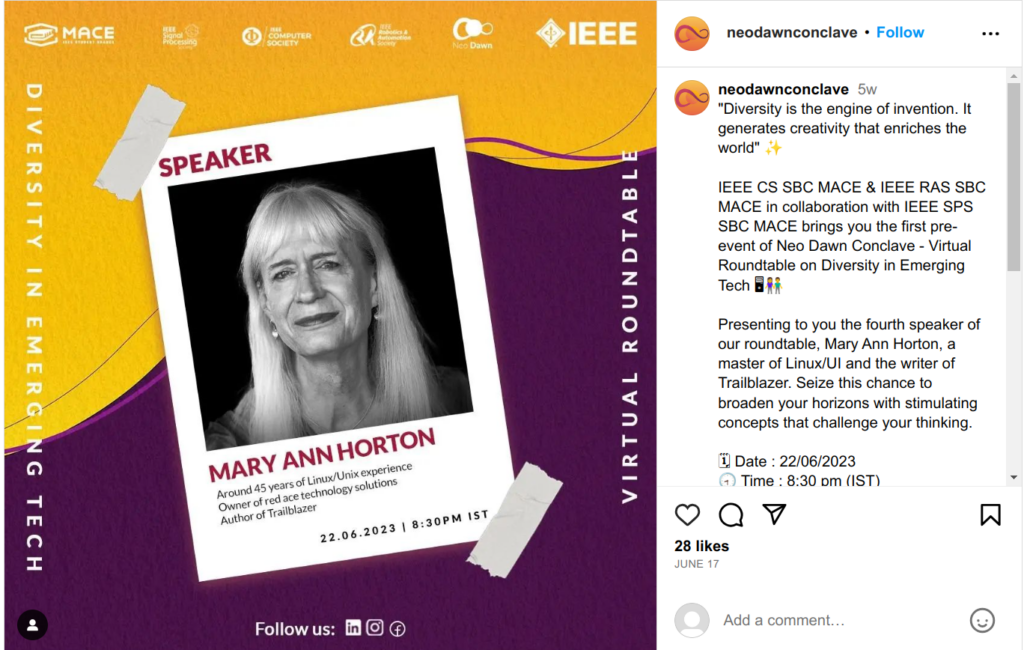 Oceanside Sanctuary, June 2023 (speaker)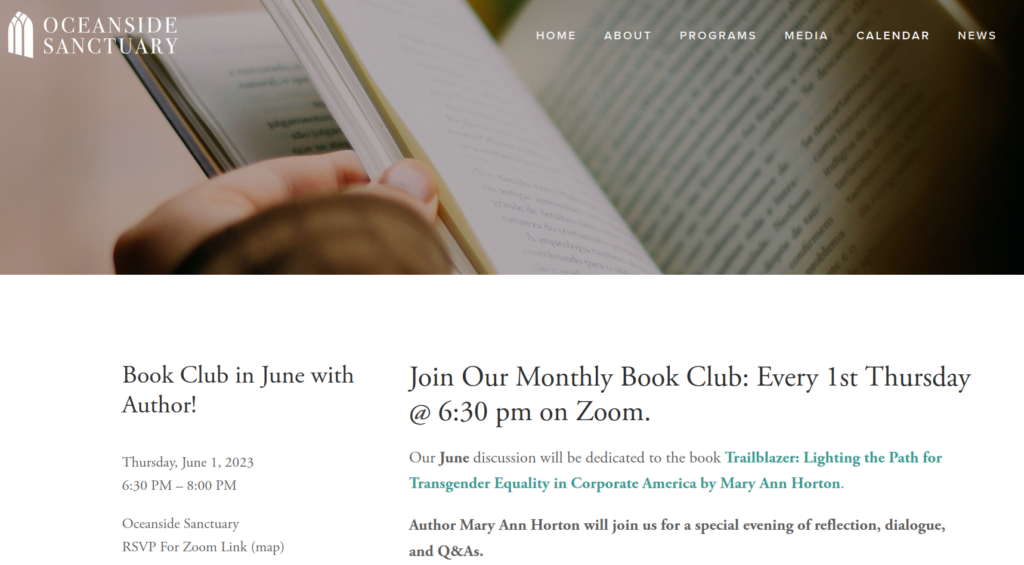 Bethlehem Lutheran Church, May 2023 (speaker)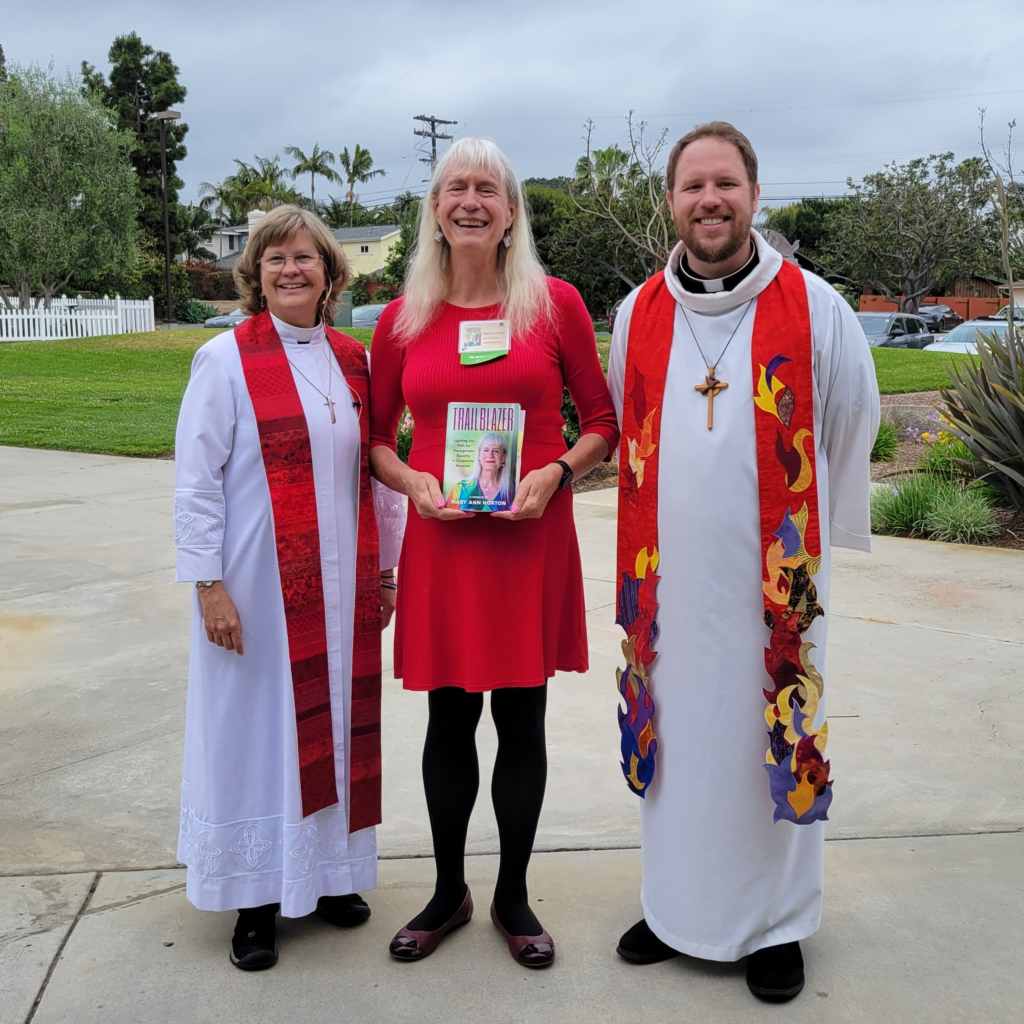 Punk Rock HR, April 2023 (podcast)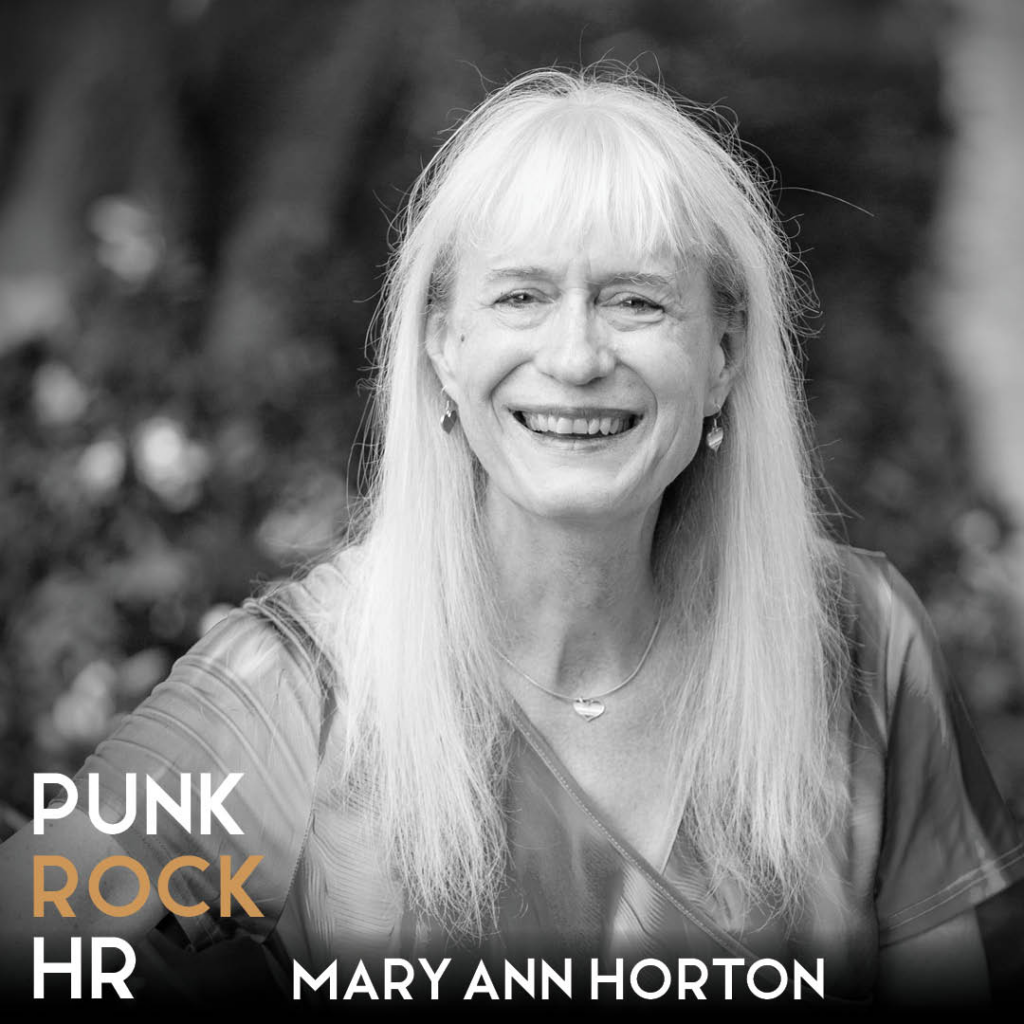 Bristol Myers Squibb, April 2023 (speaker)
Living Lutheran, March 2023 (magazine)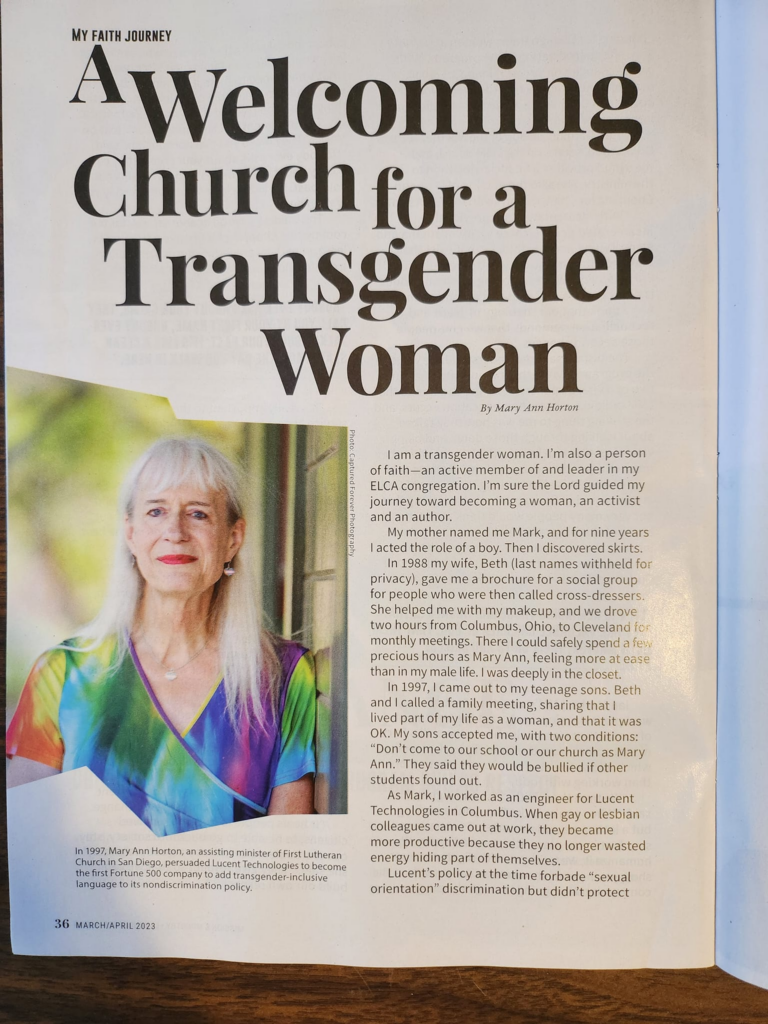 PACE-TV, March 2023 (television, pace-tv.com)
The Heroines of My Life, February 2023 (blog)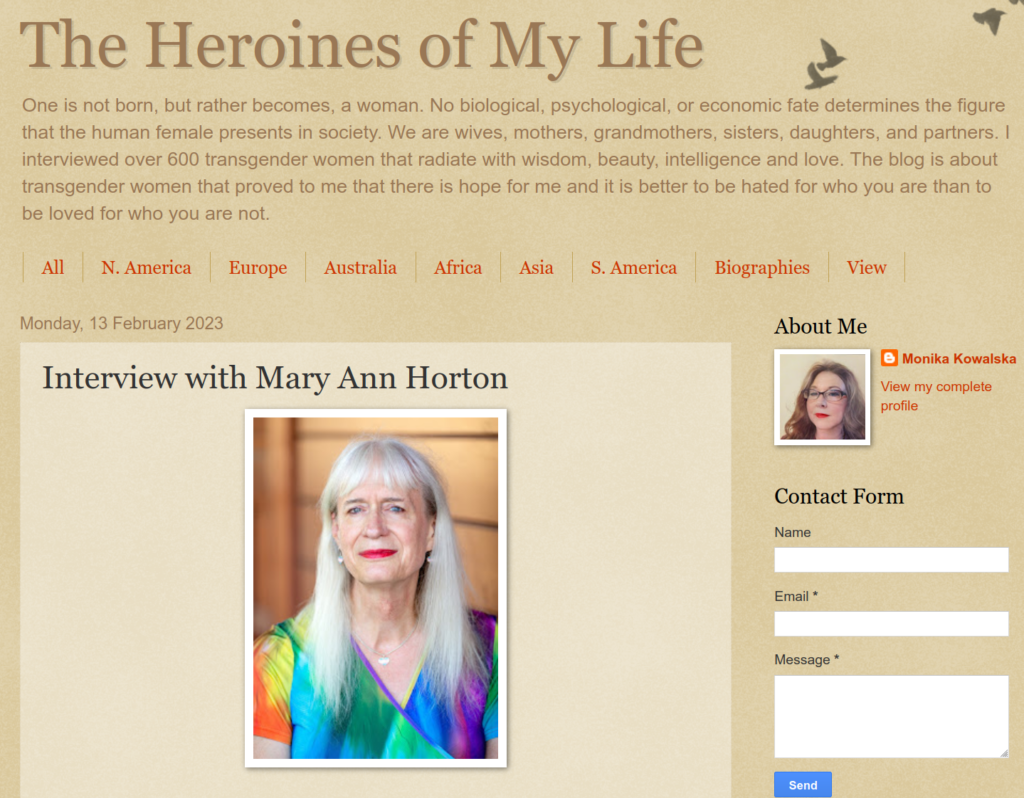 International Memoir Writers Association, March 2023 (panel)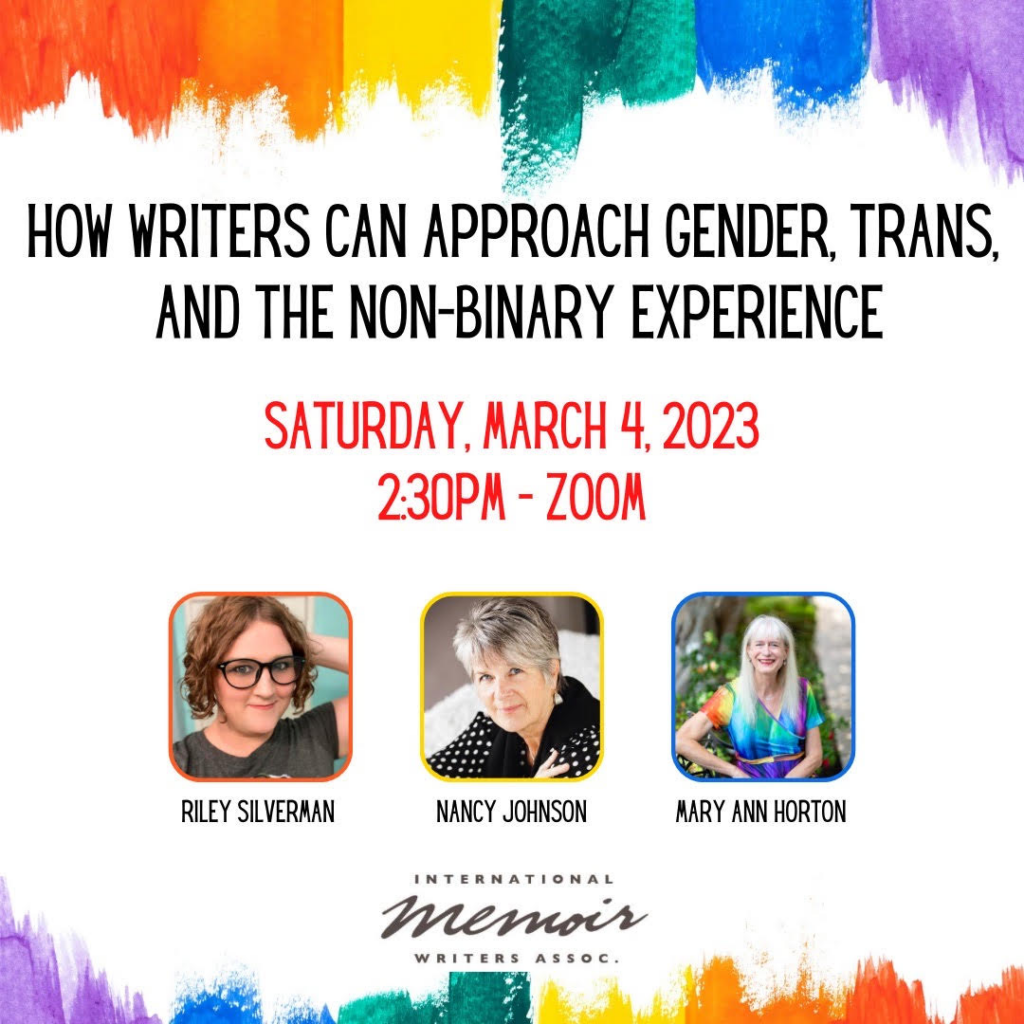 Incarnation Lutheran Church, January 2023 (panel)
Oceanside Library, January 2023 (speaker)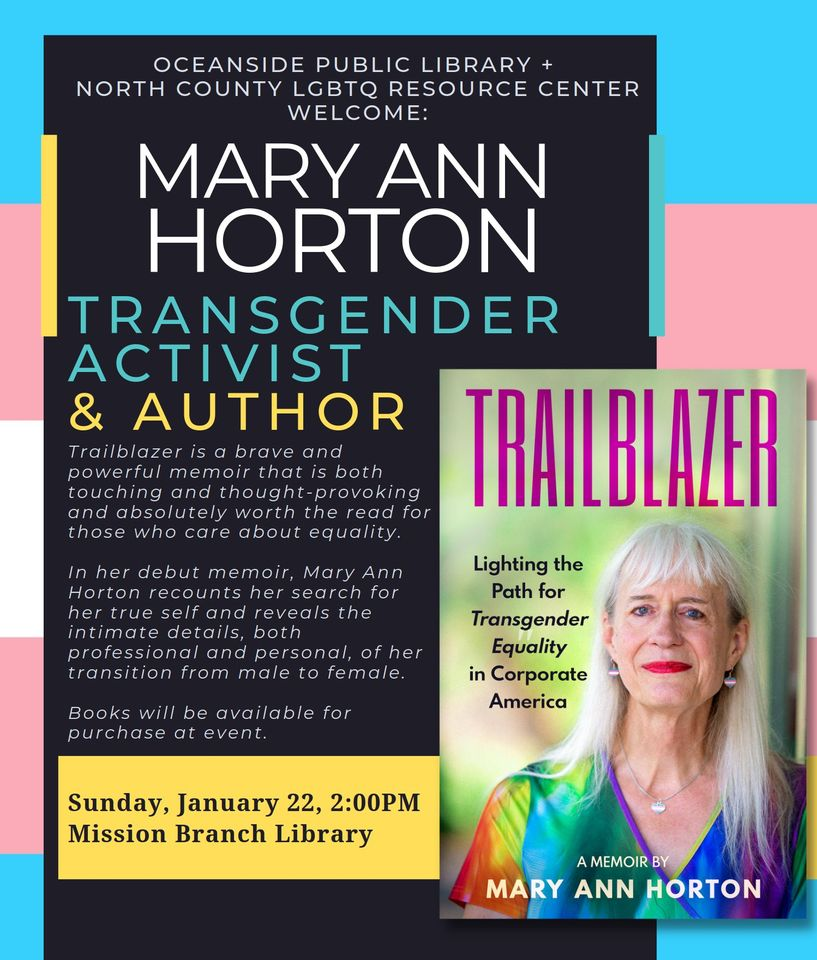 Memoir Showcase – International Memoir Writers Association, December 2022 (performance of work by professional actor Charles Peters)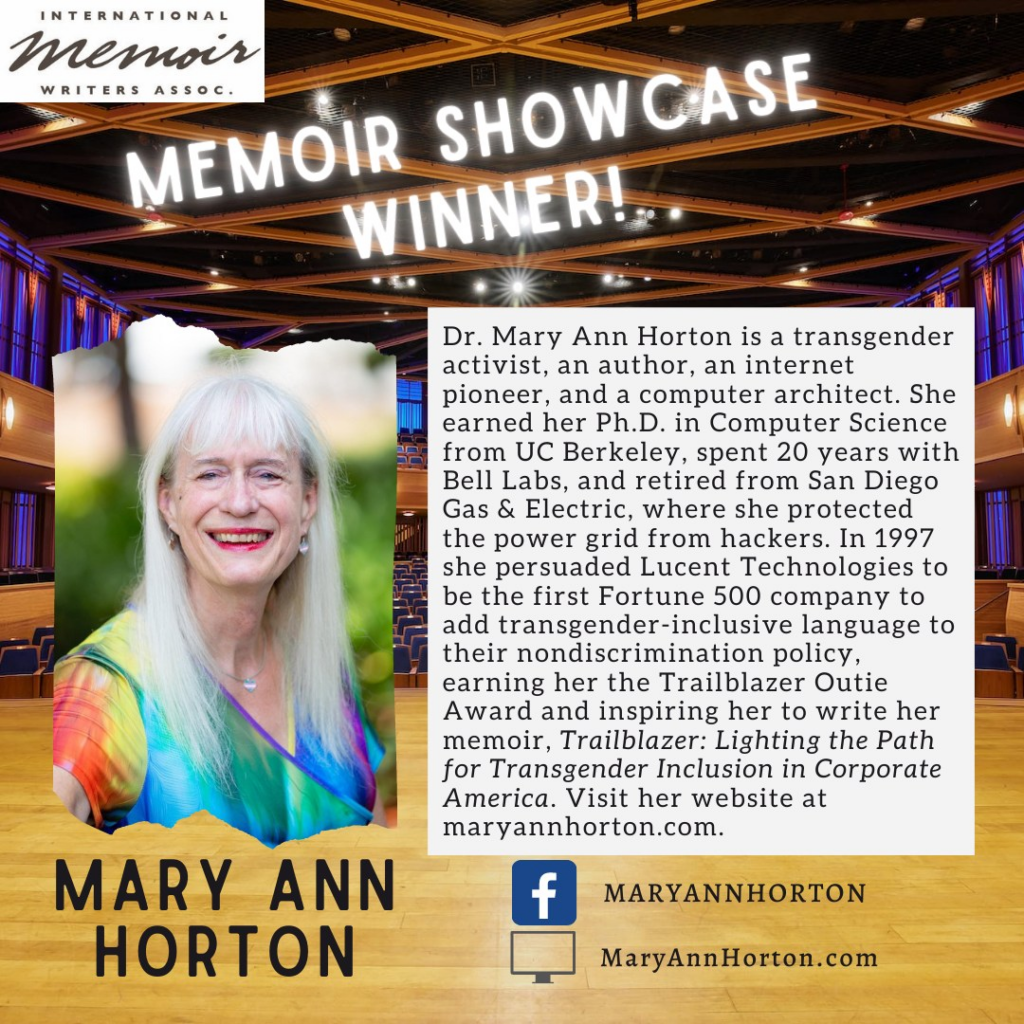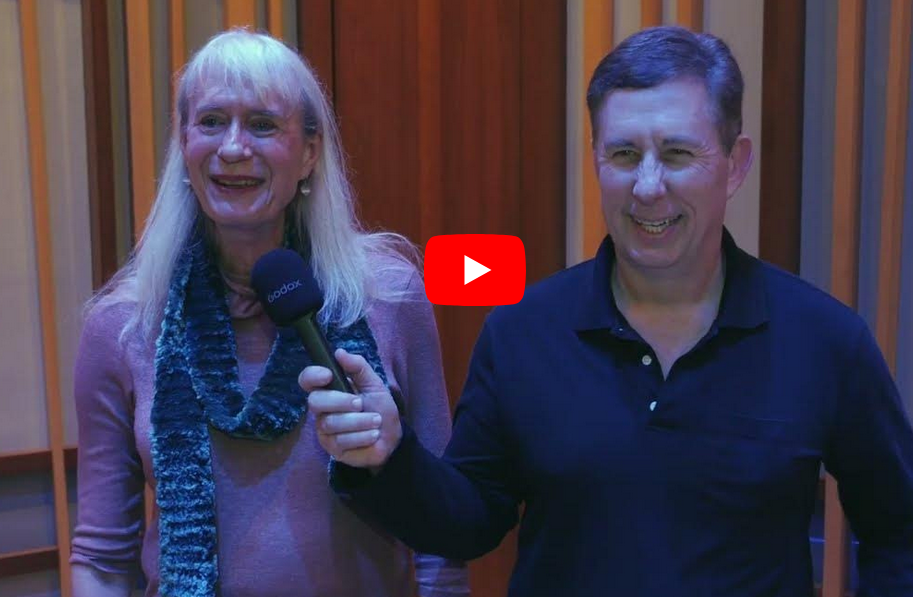 San Diego Union Tribune, November 2022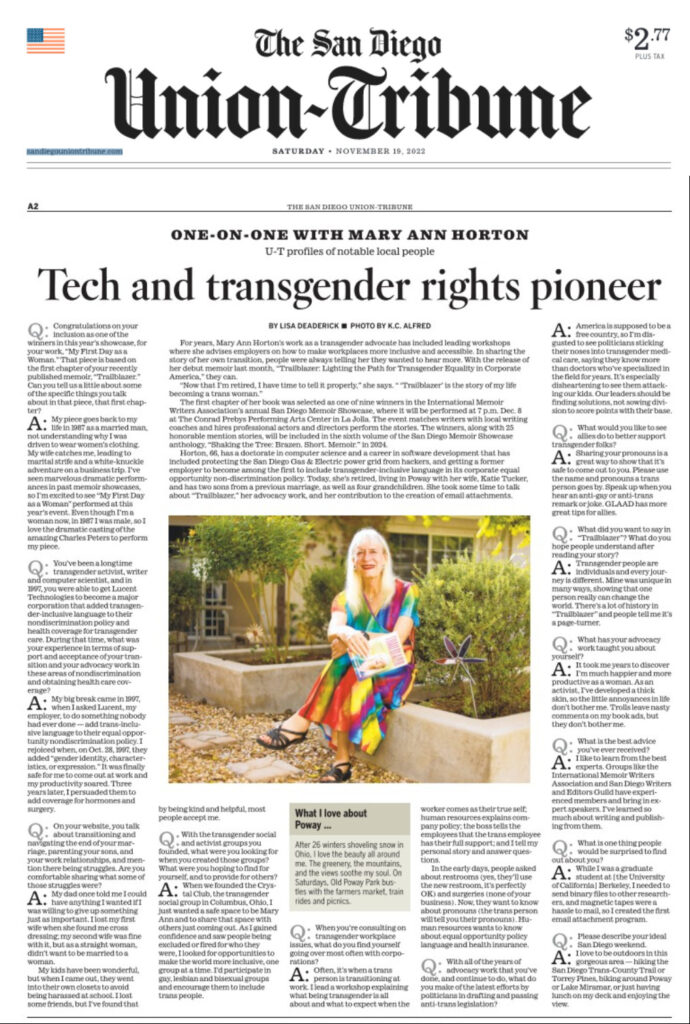 This story, One on one with Notable San Diego people, was on page 2 of the San Diego Union Tribune. The story was also picked up by Towleroad and the Poway News Chieftain.
San Diego Writers and Editors Guild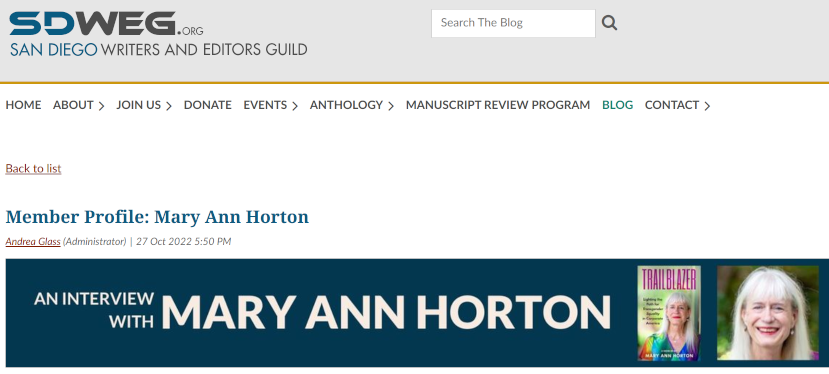 SDWEG featured me in November 2022.
International Memoir Writers Association
IMWA featured me in December 2022.
Usenix book review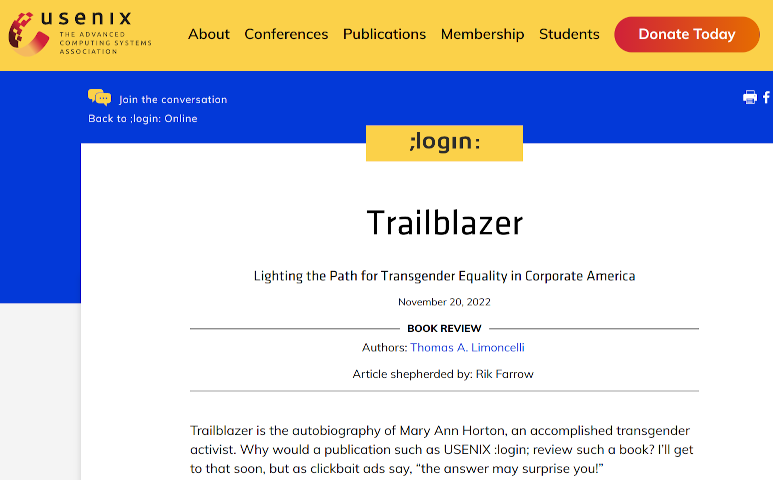 Activist and tech wizard Tom Limoncelli reviewed Trailblazer.
25th anniversary of Lucent's EEO policy, October 2022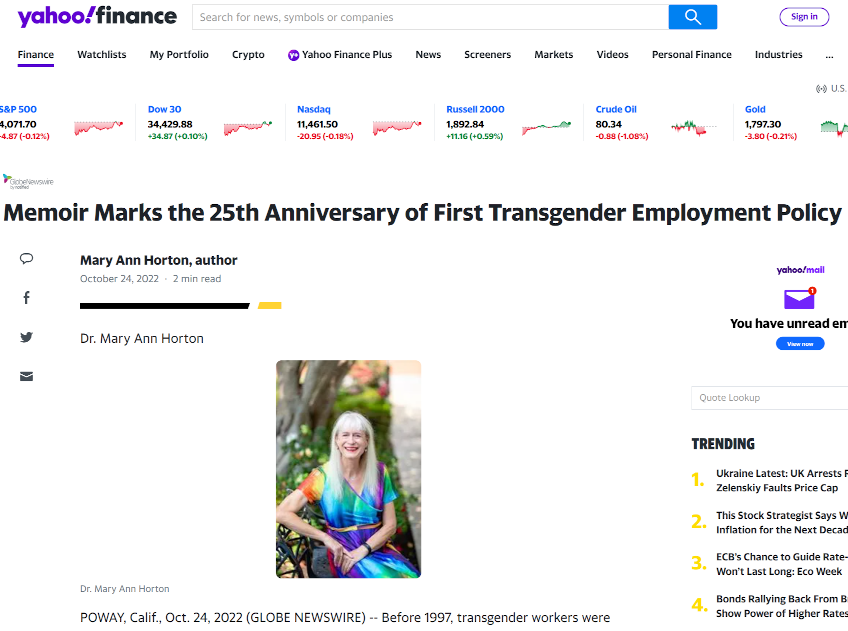 The press story picked up by Yahoo Finance and other media. Other pickups included Yahoo Entertainment, Business Insurance, Digital Journal, the Pittsburgh Post-Gazette, and the Beauty Trend publication in Ukraine.
Nokia blog for 25th anniversary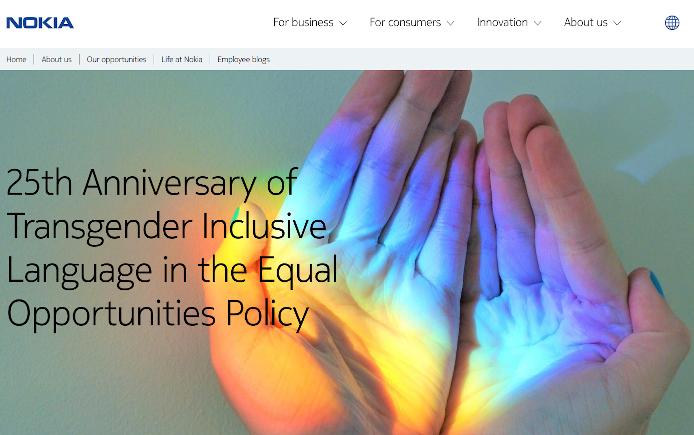 Nokia blogged about the big anniversary.
No Woman Left Behind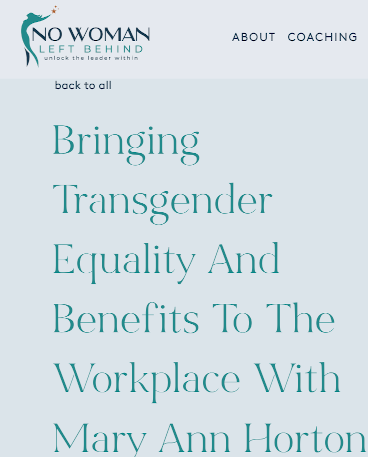 Rosie Zelenskis interviewed me for her blog.
Out TV, March 2021
Canada's Out TV network posts a list of 13 modern day trailblazers for International Transgender Day of Visibility.
Nokia post for IDAHOBIT, May 2020
Changing history and building #Inclusion: Mary Ann Horton shares with us her inspiring story describing the early days of EQUAL!, the Nokia LGBT+ employee resource group. https://nokia.ly/3bBqQHo #IDAHOTB #IDAHOBIT #GenderEquality
Usenix ;login: Interview, Spring 2020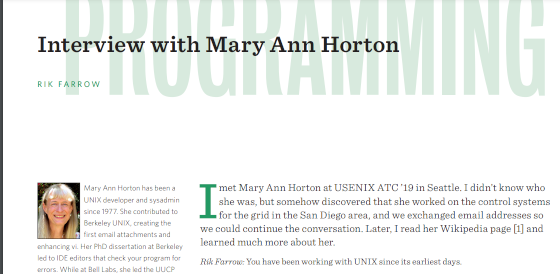 Rik Farrow of Usenix interviewed me for Usenix's quarterly magazine.
IEEE Spectrum, Mar 2019
Peter Adams' photos are showcased in a nice story about his photography. They showed twelve example photos from Peter's large collection, and mine happened to be one of them. I was placed right next to Vint Cerf, the father of the Internet.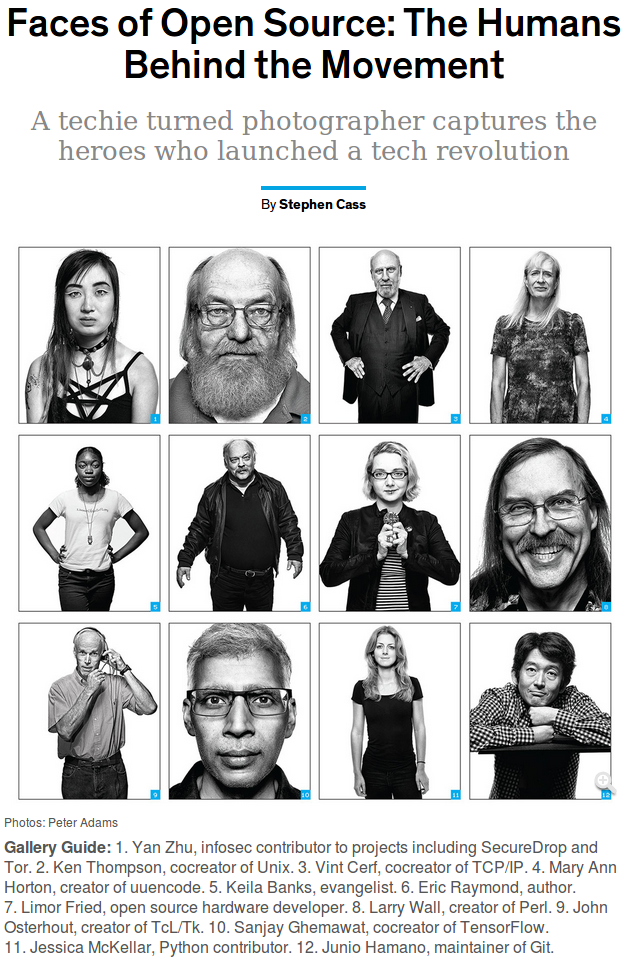 L-MAG, Feb 2019
The German magazine for lesbians L-MAG published a list of 10 lesbian inventors. What an honor to be included with the likes of Hedy Lamarr and Mrs. Claus!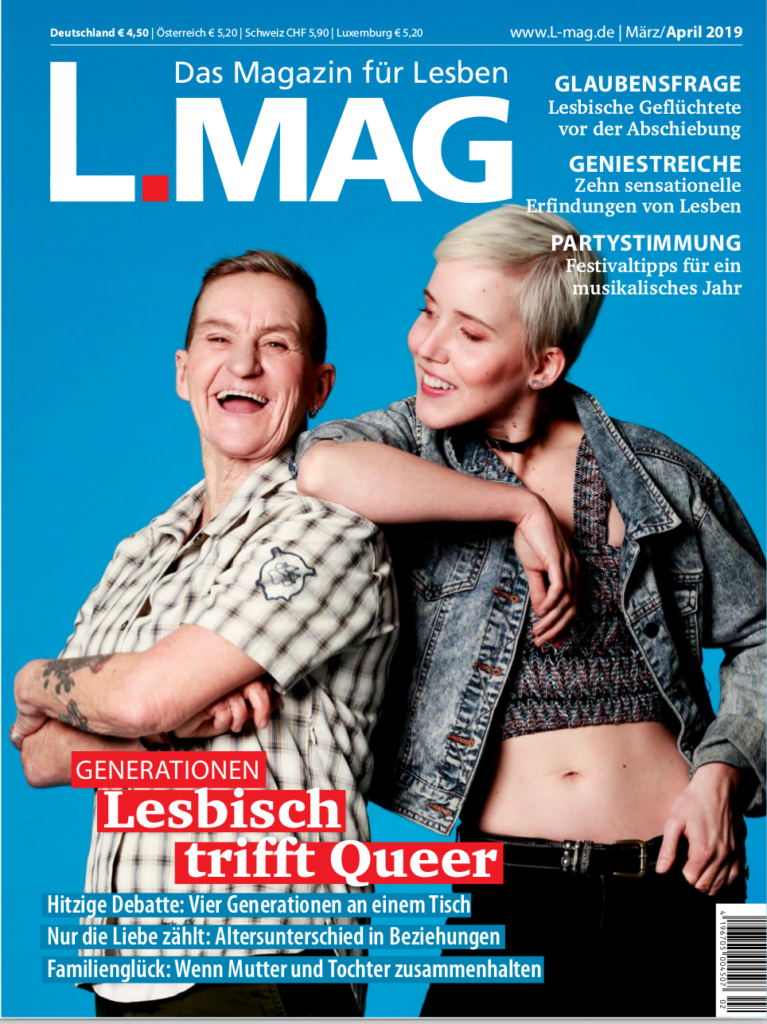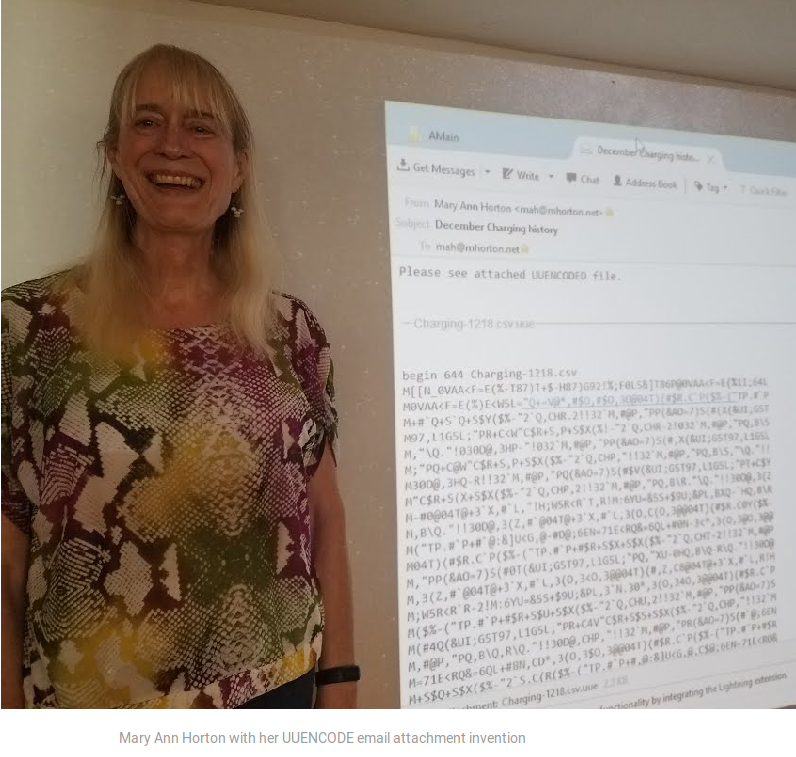 Google Arts and Culture
Here is a nice story about what it takes to be an inventor.
Daily Beast, Apr 2018
An enthusiastic article about email attachments.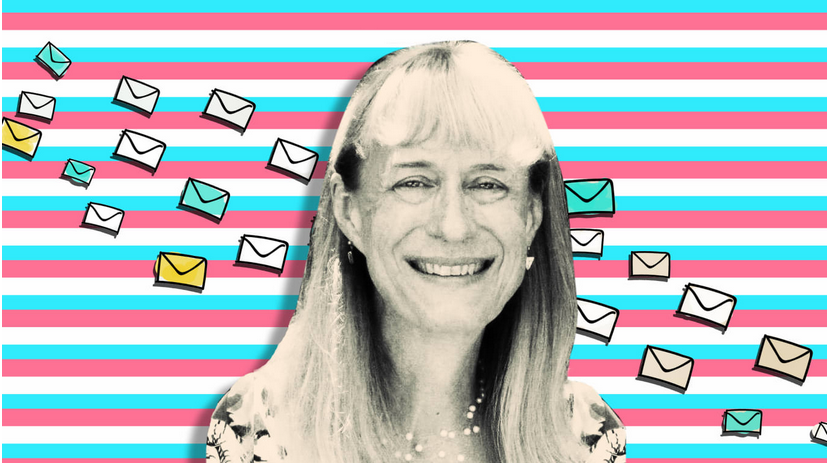 SecDev Foundation, Feb 2018
I was included in the SecDev Foundation's 2018 gallery of Cyber Women.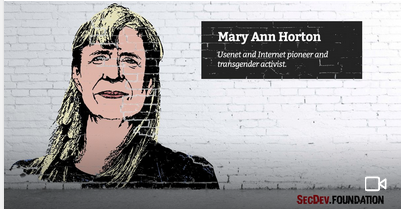 Faces of Open Source, Jun 2017
Peter Adams http://facesofopensource.com/ included my photo in his iconic web site Faces of Open Source.
The Advocate, September 2006
Joanne Herman's column covers Out & Equal 2006, including my Cost of Transgender Health Benefits workshop.
Society for Human Resource Management, May 2002
SHRM's magazine interviewed me in 2002.
Salon, Jan 2002
This 2002 story links me to the oldest surviving article posted to Usenet.
Outie Award for Trailblazer, Oct 2001
The prestigious Trailblazer Award was presented to me at the Outies, Out & Equal's Workplace Summit, in Cincinnati.

First Columbus Transgender Day of Remembrance, November 2001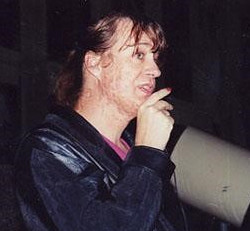 I found myself, by default, the keynote speaker at the inaugural Remembering Our Dead vigil in Columbus. The event was covered by Cleveland's Gay People's Chronicle, resulting in the worst photo of me ever taken, the evening after my second laser hair removal treatment left my face plaid with singed hair.
Diversity Factor, Fall 2000
A profile about my transgender advocacy work was carried in The Diversity Factor (page 18-19).

USENIX 25th Anniversary, 1994
I was the 6 of hearts in the 1994 USENIX deck of playing cards, commemorating the 25th anniversary of USENIX.