DUE TO COVID-19, ALL MOVIE NIGHTS ARE POSTPONED UNTIL FURTHER NOTICE! We're sorry, but we're not able to host "mass gatherings", which currently means more than two people. We hope to resume Movie Night soon. We miss you all!
We host a Movie Night every couple of months at our home in Poway. If you like old movies and enjoy the company of our friends, contact Katie Tucker or Mary Ann Horton on Facebook to be included on our invitation list.
Featured Movie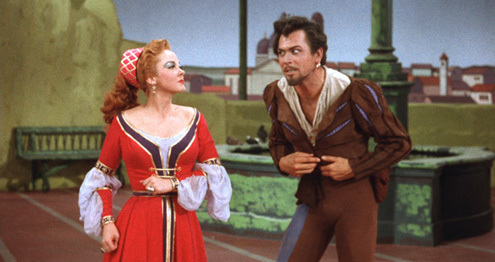 Feb 22 (5-10 PM) Kiss Me Kate
Join us for this classic Play turned Musical within a Broadway Musical turned Movie Musical, featuring lyrics by Cole Porter, dance by Ann Miller, the birth of Bob Fosse's choreography, and a plot based on William Shakespeare.
A mislabeled bouquet of flowers, a pair of mobsters, a big-headed rancher, and some good old fashioned narcissism conspire to make the divorce of two Shakespearean actors a lot less amicable. Will "The Taming of the Shrew" ever be the same?
Divorced Broadway stars Fred Graham (Howard Keel) and Lilli Vanessi (Kathryn Grayson) agree to star in a musical adaptation of William Shakespeare's "Taming of the Shrew" alongside rising young actors Lois Lane (Ann Miller) and Bill Calhoun (Tommy Rall). Backstage complications pile up due to a romantic misunderstanding between Fred and the soon-to-be-remarried Lilli, while Bill's gambling debts cause a pair of lunkheaded mobsters (Keenan Wynn, James Whitmore) to become part of the show.
Click here to see the trailer.
Please bring a pot luck item. Bring what you want to drink, or a drink to share. Soups and salads are encouraged.
As always, if you're coming please RSVP to Mary Ann at mah@mhorton.net or (614) 599-0965.
| | |
| --- | --- |
| Number | Who |
| 2 | Mary Ann/Katie |
| 18 | Total |
Upcoming Movies (subject to change)
DUE TO COVID-19, ALL MOVIE NIGHTS ARE POSTPONED UNTIL FURTHER NOTICE!
Apr 18 (5 PM) The Favourite
May 23 (12 PM) Memorial Day Pool Party
July 18 (5 PM) Before You Know It
Sep 12 (4PM) Mary Poppins
Nov 7 (5 PM) Set It off
Dec 31 (5 PM) New Years Eve Party / Show Tunes
The Movie Night FAQ has directions and explains how this works.